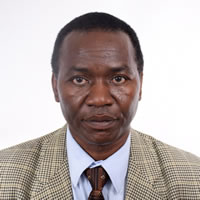 Jared O. Nyaundi Profile
NAME

Jared O. Nyaundi

Gender

Male

Date of Birth:

20th September 1962

Designation

Ag. Director of Trade

Official Address

Ministry of Industry, Trade and Cooperatives

P.O. Box 30430 -00100, GPO – NAIROBI

Telephone

Main line: +254-20-315001-4 Ext 2099

Mobile

+254-722843631

Email:
I posses a Bachelor of Commerce (Business Administration) and a Master's of Business Administration (Strategic Management). I am a trade Officer by profession and have worked for the Government of Kenya for over thirty years. I work at the Ministry of Industry, Trade and Cooperatives, State Department of Trade, Department of Internal Trade. My duties entail guiding and supervising the implementation of trade related policies, strategies and programmes on domestic trade and investment, providing consultancy and technical guidance on trade related issues to the business community, coordinating the development of wholesale hubs/wholesale markets and tier one retail markets in the distribution value chain; participating in Regional Integration meetings among others.
Currently I am in charge of coordinating programmes and activities towards the establishment of the National Commodities Exchange, a member to the National Taskforce on Commodity Exchange and a member of the Regional Joint Technical Committee on the commodities exchange cluster. As the Head of Regional Trade and Export Department I coordinate preparation of Department's workplan and setting performance targets and budget estimates for the Department. I also oversee the activities of the National Taskforce on Commodities Exchange to ensure realization and implementation of the team's strategic objectives. I have also participated in developing the National Trade Policy, Trade Development Bill, National Export Strategy and Ministry's Strategic Plans.